Drove up from Miami to Orlando with some friends to meet up with peeps and see
Trash Talk
(also
TT Myspace
)! I unfortunately threw my BlackBerry out of the window while traveling at 100mph on the Turnpike (may it rest in peace wherever it may lay), and so I was unable to document the trip as I would have liked. In any event, the show was too fucking ill and well worth the hours put into the trip, haha. Here are a couple of pics from the show that my friend Krystal took with her phone: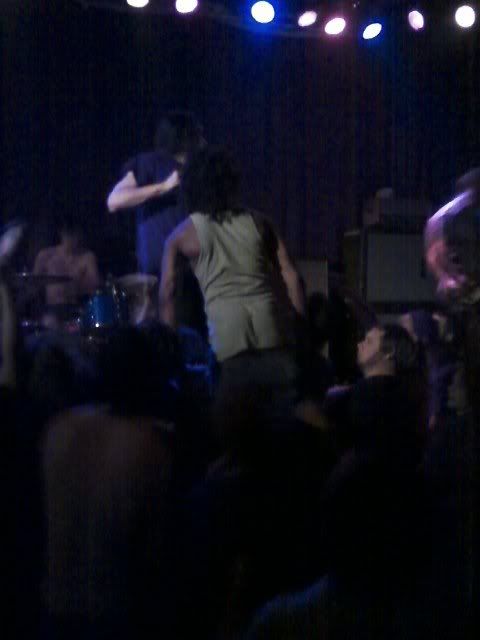 This pic was taken of me using some kids as leverage to join Lee on some vocals for "Manifest Destination". He ended up wrapping the cord around my neck and letting me do damn near all the vocals myself for the latter part of the song while he choked me (definitely not as raunchy as it sounds, haha). Anyways, the evening was full of this type of shit as Lee handed the mic to Chris (the lead singer of
my band
) to do all of the latter part of "Sacramento is Dead" while walking around the pit like it was his show (lol) and also to my buddy Faden for another song that I can't currently recall.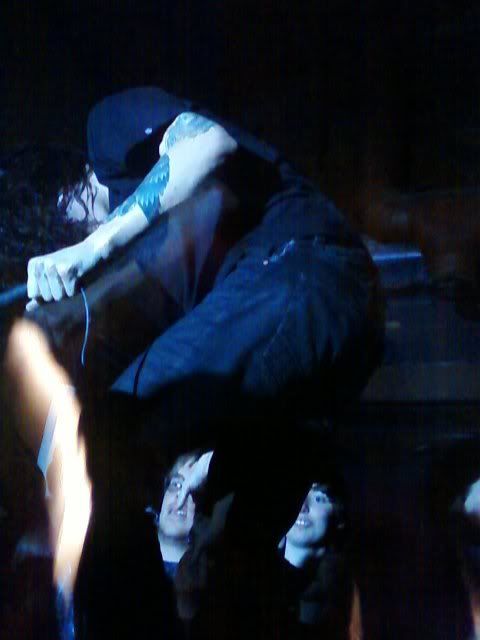 And this is Lee taking full advantage of the entire venue, haha.
Only 2, sadly, but I'll be sure to add any pics that may surface if I find 'em!